October 31, 2022
We have been working hard and have exciting new features to share!
Application Dark Mode
Our journey to the dark side is complete. You can set your preferred appearance permanently in the User Settings or have it switch based on your system preference.
Emoji Support 👋
Typing : will bring up a list of suggested emojis. The list will filter as you type, so once you find the emoji you're looking for, select it from the list and press Enter to complete the highlighted result.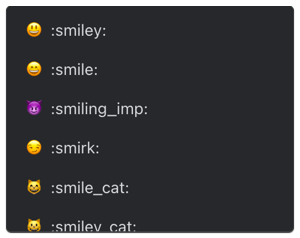 We are working on automatically converting common emoticons into emojis next.
Customize Release Changeset Status
The default release change types can now be customized to suit your workflow better. This feature is frequently requested, and we are happy to deliver it 🙂. Add, edit or change the color of release changeset types in Settings → Workflow.
Page Visibility Settings
We've added new visibility options to give finer control over who can see your page. Previously, to make your page visible publicly, you had to have at least one public release note or a roadmap item, and your page would automatically be available to the public. Going forward, you are required to toggle page visibility manually. All pages are defaulted to hidden, and you choose when you want to share it with the world.
Available Options:
Hidden: page is hidden from the public.
Public: page is visible to everyone.
Password Protected: page is visible only to ones with a password.
Custom Page CSS
We have fully revamped our public page and made it extensible. Business tier users can now insert custom CSS stylesheets under Settings → Appearance and have better control over the look and feel of the page.
| | |
| --- | --- |
| Added | Share-links are now out of beta. |
| Added | Password-protected pages are now out of beta. |
| Added | New Workflow settings that allows you to customize release changeset options. |
| Added | New user Preference settings added to control interface theme option. |
| Added | Showing release reaction count on hover. |
| Changed | Centralized all import functionality under one roof. Migrated Subscriber CSV and Mailchimp import settings into Settings → Import. |
| Changed | Sorting application roadmap items by hotness 🔥 rank (coming soon for the Widget and Page). |
| Changed | Updated the sample data for new organizations. |
| Fixed | Fixed the privacy settings bug. |
| Fixed | Fixed the changeset CMD/CTRL+RETURN keyboard shortcut. |
| Security | Page visibility now controlled via toggle in Settings → Privacy. |
| Security | Increased member privilege. Organization members now can create, edit, and delete projects. |